Search engine optimization is confusing business that's best left up to experts that know how to properly rank for keywords and then optimize a website to rank properly for them. Coming up with keywords is half the battle, and the part that most site owners focus on, but it won't do you any good without proper on-page optimization as well.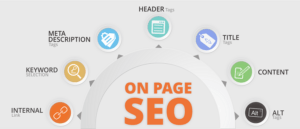 Our pro ranking team understands proper on-page optimization and works improving dozens of websites each year by making them over to be much more appealing to search engines.
Appeal to Search Engines for Local Results
We're located near the following cities and specialize in optimizing websites for local search results in the following areas:
We can evaluate your current website, come up with a plan of attack, and modify your site to begin showing up for search results before you know it.
Site Evaluation
The first part of our service is the site evaluation. We'll look over your website and determine weak points, and what is being done right. After a short evaluation, we'll be able to tell you how we can improve your website, and what you're doing wrong now.
Optimization for Optimal Search Success
After the initial evaluation, it's time to begin improving your website. To do this we'll adjust things like keyword density, link structure and overall content quality to ensure that you're not missing any opportunities to rank your website as high up in the search engine results as possible. This is the most time-consuming part of our service, but also the most beneficial to helping improve your website.
On-site optimization is the best way to take a standard website and transform it into a top-performing product that you can be proud of. That's why, if you live in the following areas, Capitola, Scotts Valley, Santa Cruz, Aptos, Oakland, San Jose, Los Gatos, Soquel, San Francisco, Boulder Creek, Monterey, Ben Lomond, you should contact us for help today.
Reach out to our team of experts, and we'll help you figure out how to really rank that website and get the results you want right away.